These strawberry shortcake ice cream bars are made with blended cottage cheese and leave you with 13 grams of protein per bar. All the delicious flavors of your classic childhood ice cream bar without the heavy cream.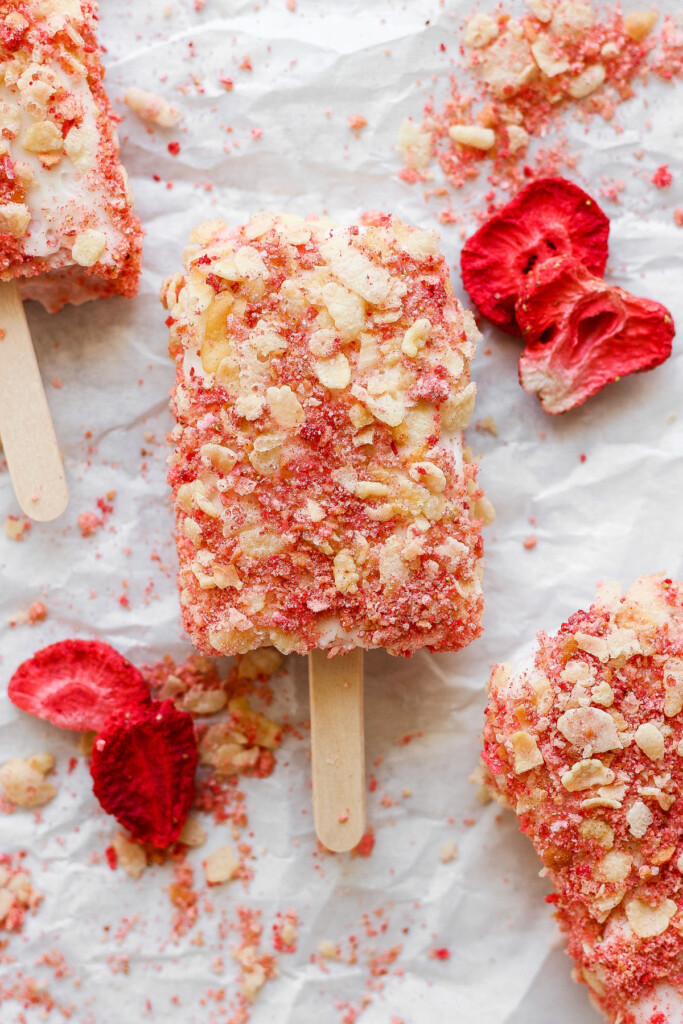 If you grew up in the early 2000's then you probably enjoyed a strawberry shortcake ice cream bar by Good Humor from your local ice cream truck or your school ala carte line. It was the IT ice cream bar to have.
These bars are seriously heaven, made with a strawberry filling, vanilla ice cream, and a delicious cake coating. We have stepped it up a notch and made a cleaner (and protein-packed) version of our favorite childhood ice cream bar.
What You Need for Strawberry Shortcake Ice Cream Bars
Popsicle Mold: this silicon popsicle mold with popsicle sticks makes creating homemade popsicles at home easy-peasy.
Strawberry layer: the strawberry layer is made of blended cottage cheese, freeze-dried strawberries, and sweetened with honey.
White chocolate dip: the sweetness of the outer coating comes from a little melted white chocolate and coconut oil. This layer is important because it will help the crunchy layer stick to the ice cream bar.
Crunchy outer layer: the crunch comes from a mixture of vanilla wafers, strawberries, and rice crispies.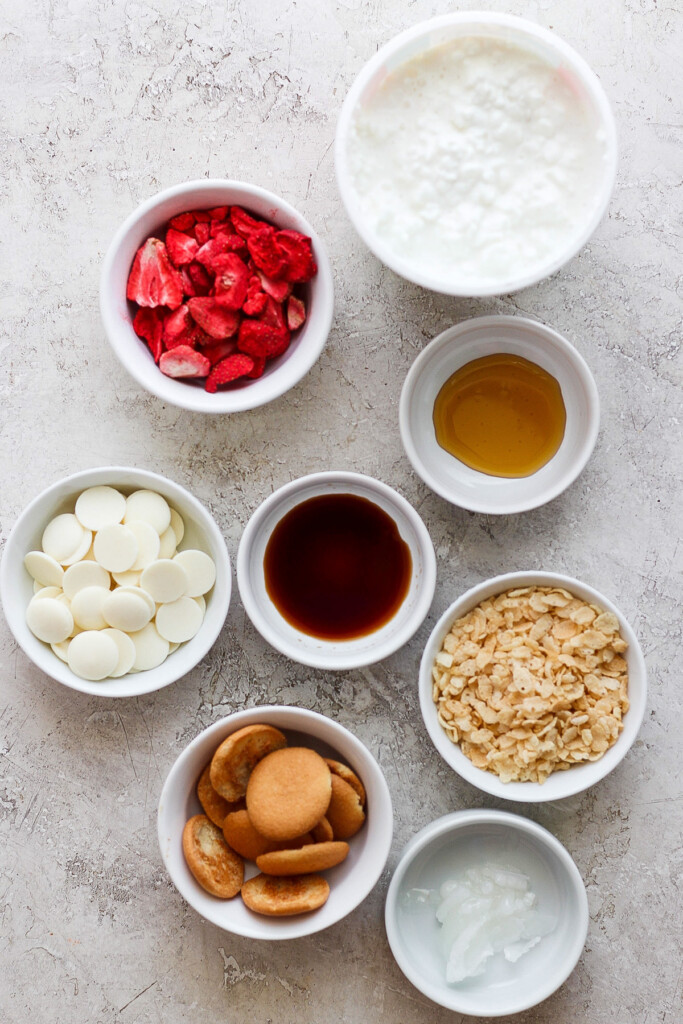 Subscribe!
Love desserts? Us too! Subscribe to our emails and get all of our best desserts straight to your inbox.
Silicon
Popsicle Mold
Keep this silicon popsicle mold on hand to make easy, homemade popsicles at home.
Substitues & Variations
If you can't find freeze-dried strawberries, feel free to use freeze dried raspberries.
The white chocolate dip is a sweet layer to add a little sweetness and to hold the crunch on stick to the ice cream. If you would like to minimize chocolate, feel free to drizzle the chocolate over the ice cream rather than dipping the whole ice cream bar.
If you want to substitute the white chocolate all together, you can melt coconut mana and coconut oil together and drizzle the mixture over the ice cream. Just be sure to drizzle the coconut mana rather than dipping or else the coconut mana will seize.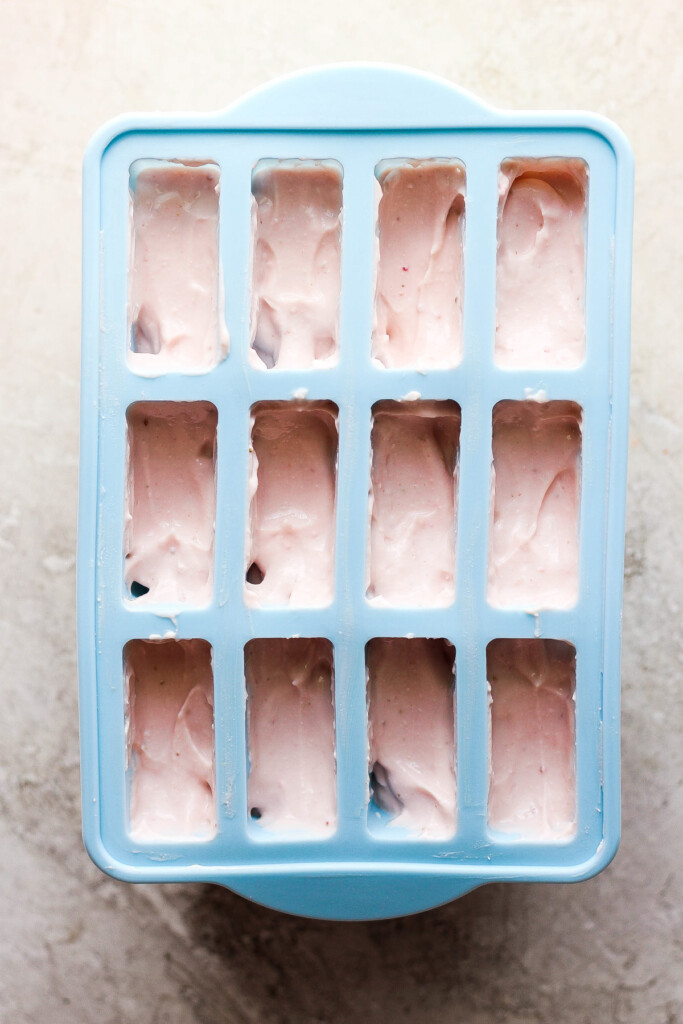 FAQ
Can I use fresh or frozen strawberries?

This recipe is developed to use freeze-dried strawberries. They are easy to store and pack a ton of flavor.

This recipe has not been tested with fresh or frozen strawberries.
Why are my bars icy or have ice crystals?

Ice crystals can form if the bars aren't frozen quickly or if they are exposed to air in the freezer. Ensure you store them properly and use airtight containers or wraps.
Why isn't my crunch sticking to the white chocolate coating?

If the crunch doesn't stick to the white chocolate, the white chocolate has hardened too quickly. Be sure to add the crunch to the white chocolate immediately after dipping the ice cream bar into the white chocolate.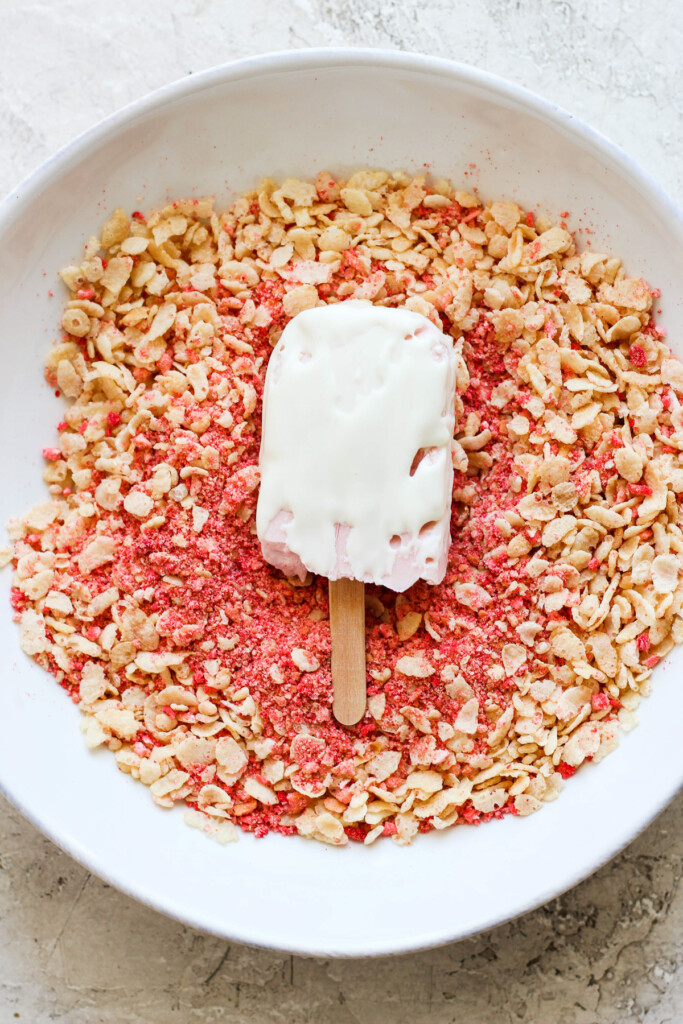 Freezer Instructions + Storage
There are two steps of freezing and storage for these strawberry shortcake ice cream bars.
The strawberry cottage cheese layer must be frozen in individual popsicle trays. Be sure to freeze this layer for at least 4-6 hours.
Once the strawberry layer is frozen, run the popsicle mold under warm water to release each bar. Immediately dip the bar in white chocolate, add the crunch, and transfer the bar to a plate.
Freeze the bar for another hour and then individually wrap each bar in parchment paper and store in a freezeer-safe container.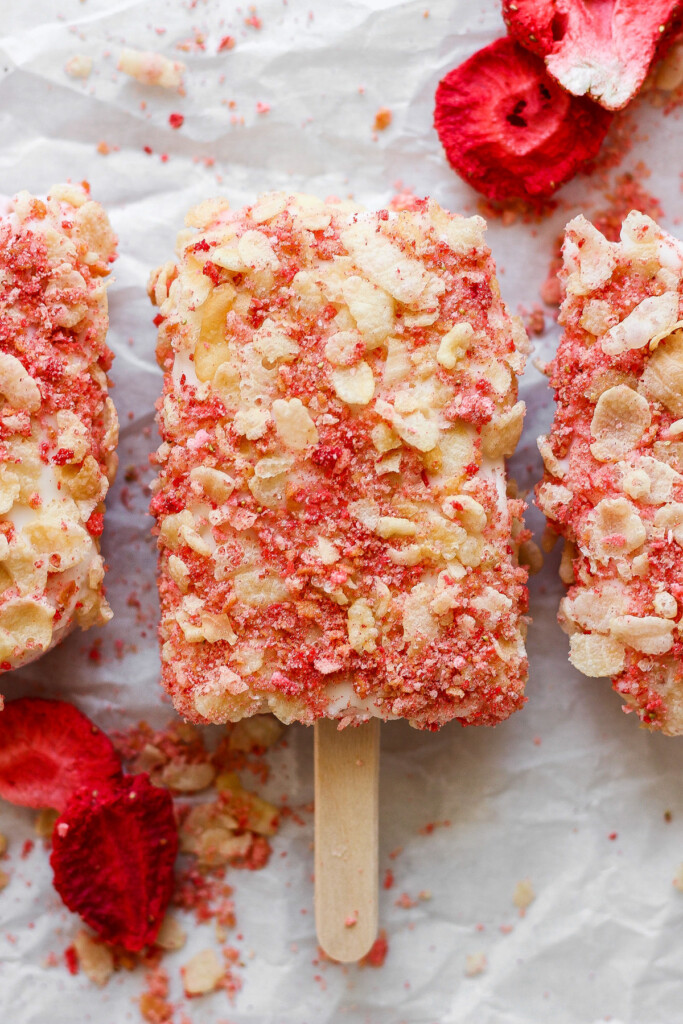 Serving Suggestions
Serve these bars with other frozen treats like peanut butter chocolate cheese cake cups, dole whip, or pumpkin almond butter freezer fudge.
Photography: photos taken in this post are by Erin from The Wooden Skillet.