You won't miss the noodles in this three cheese cauliflower mac and cheese recipe! Featuring a creamy from-scratch cheese sauce and perfectly roasted cauliflower, this mac and cheese recipe is always a hit.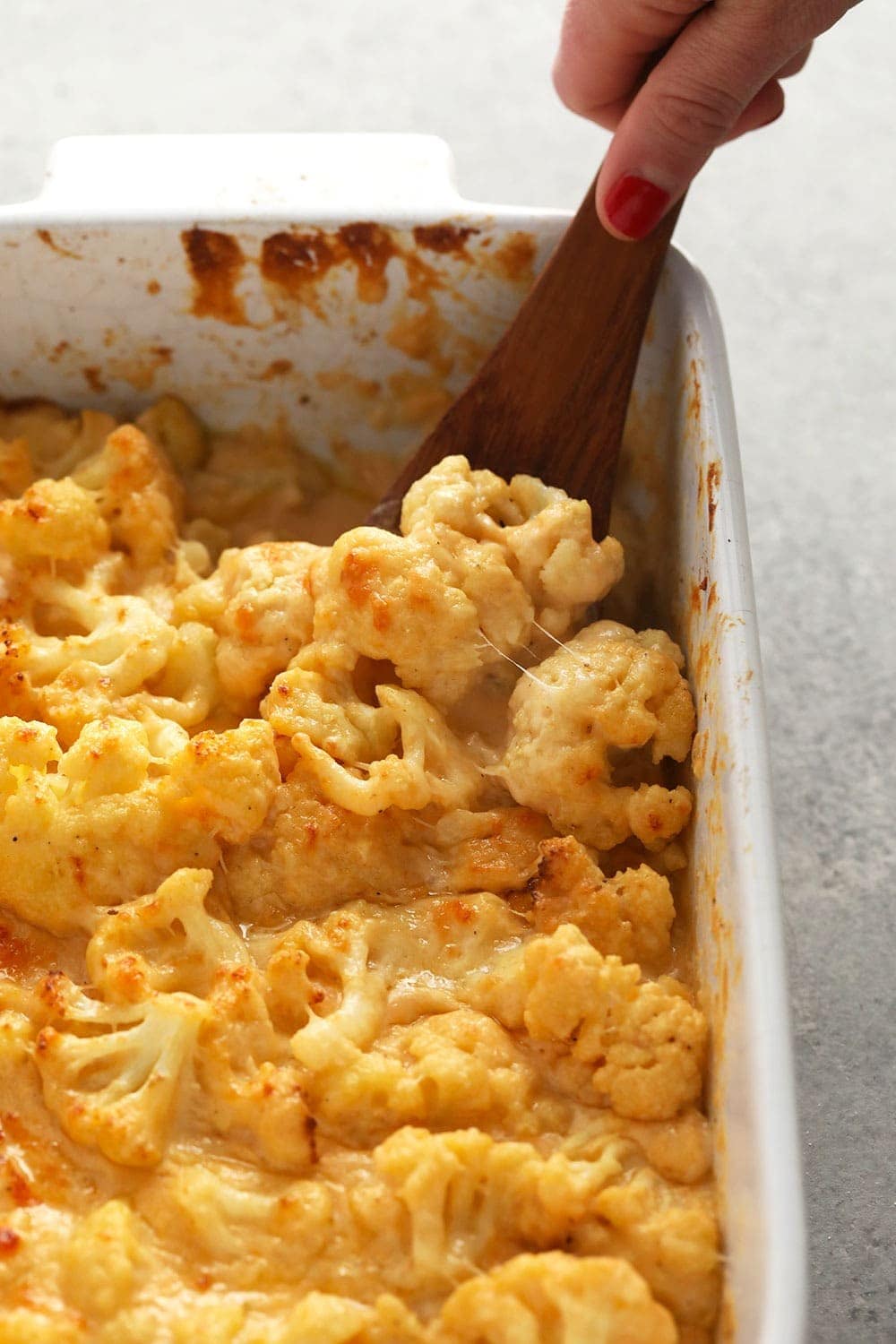 Who says mac and cheese must be made with noodles? We put a Fit Foodie spin on traditional mac and cheese and the result was "chef's kiss." Instead of noodles, we use roasted cauliflower as the base of this recipe. It's hearty, cheesy, and a wholesome alternative to the classic.
Our #1 tip for cauliflower mac and cheese success? Roast the cauliflower for 24 minutes – no more, no less. This was the perfect amount of time to ensure just-right roasted cauliflower (not mushy and not too crispy).
Simply roast the cauliflower in the oven, make the cheese sauce on the stovetop, combine everything together, and broil until golden perfection for the ultimate noodle-free mac and cheese!
What You Need for Cauliflower Mac and Cheese
This three cheese cauliflower mac and cheese recipe features roasted cauliflower and a homemade cheese sauce. Here's what you need for each:
Cauliflower: toss the cauliflower in olive oil and season with spices.
Butter + Flour: Melted butter and white whole wheat flour are the base of this cheese sauce. You'll make a thick paste before adding the creamy ingredients.
Milk + Cheese: 2% milk, shredded cheddar cheese, and cream cheese add creaminess and flavor to the sauce. For best results, grate your own cheddar cheese and make sure to use block-style cream cheese (not the cream cheese spread).
Parmesan Cheese: Once the cauliflower and cheese sauce are combined, add a sprinkle of parmesan cheese before broiling for extra cheesiness.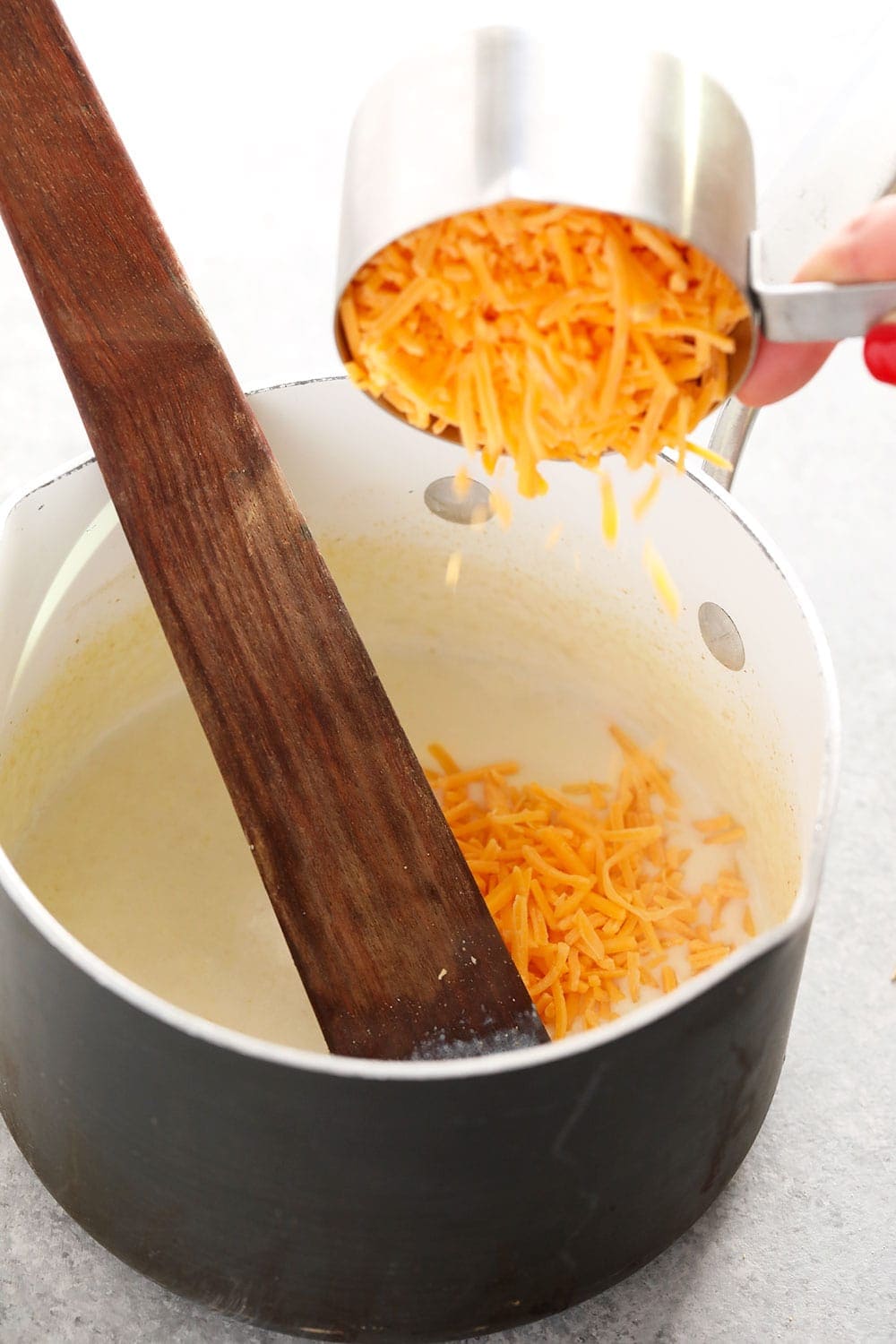 Get our Top 10 5-Star Recipes!
Join our email list for new recipes and BONUS: get our top 10 ⭐️⭐️⭐️⭐️⭐️ recipes e-book!
Cauliflower Mac and Cheese Variations
Customize this noodle-less mac and cheese recipe to your liking. Here are a few variations to try:
Use broccoli florets instead of cauliflower (or half and half).
Add a pinch of cayenne pepper to the cauliflower for a little heat.
Make a half batch and bake in an 8×8-inch pan.
FAQ
Can you use frozen cauliflower?

Yes! If using frozen cauliflower florets, follow the recipe as written, but add a few extra minutes to the roasting time in step 3.
Is this "mac" and cheese gluten free?

As written, no, but there's a simple change! Instead of using white whole wheat flour in the cheese sauce, replace it with almond flour.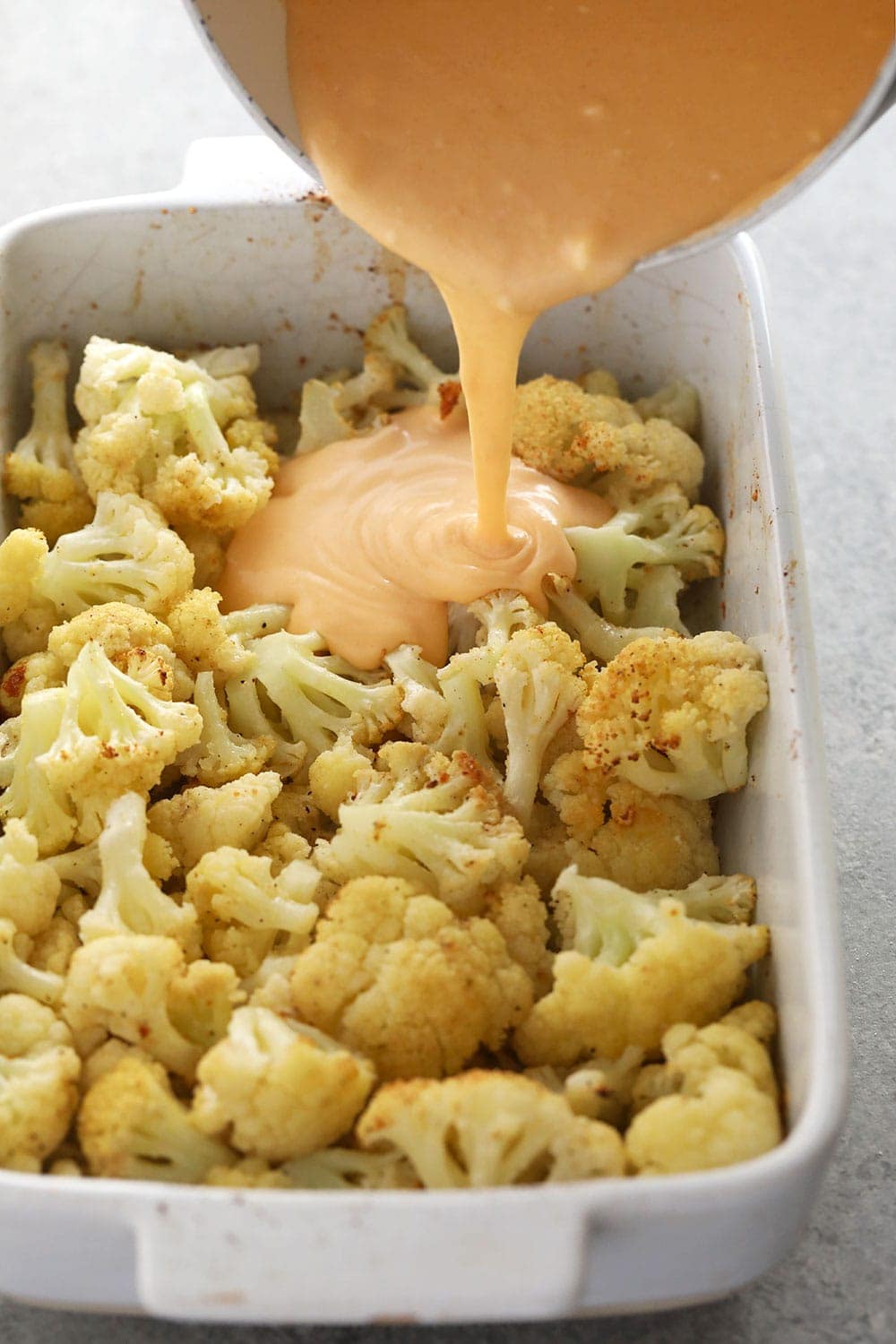 Storage
Leftover cauliflower mac and cheese is great as leftovers and reheats wonderfully. Let the cauliflower cool completely, transfer to an airtight container, and refrigerate for up to 5 days. Reheat in the microwave or in an oven-safe baking dish until warmed through.
We don't recommend freezing leftovers as the cheese sauce can become grainy when thawed and reheated.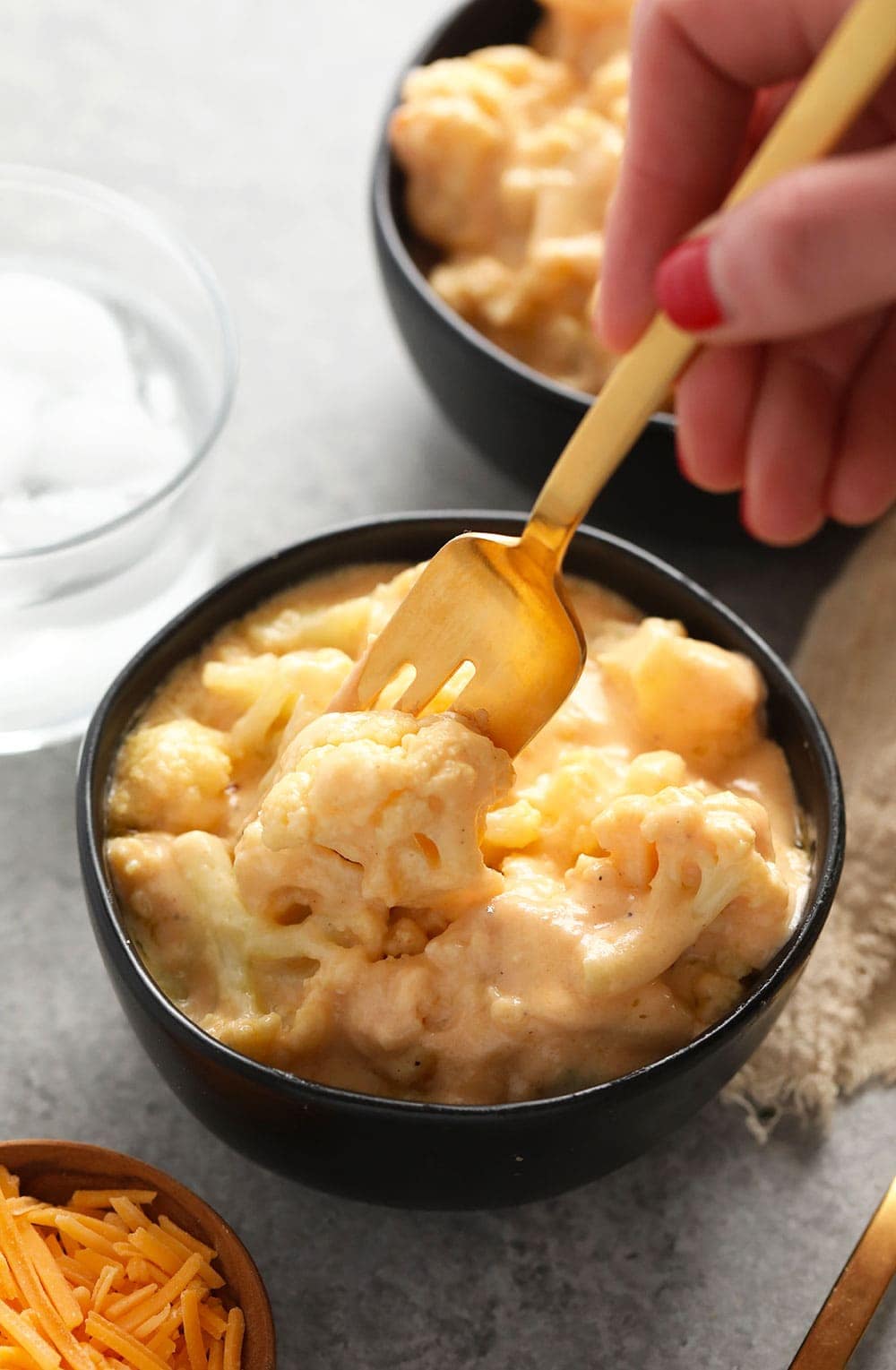 Serving Suggestions
Enjoy this cauliflower "mac" and cheese as a main dish by itself or with your favorite toppings like: roasted broccoli, peas, steamed vegetables, pulled BBQ chicken, and more. The topping possibilities are endless!
It's also delicious as a holiday side or with a salad or protein of choice (like bacon wrapped chicken or stuffed pork chops).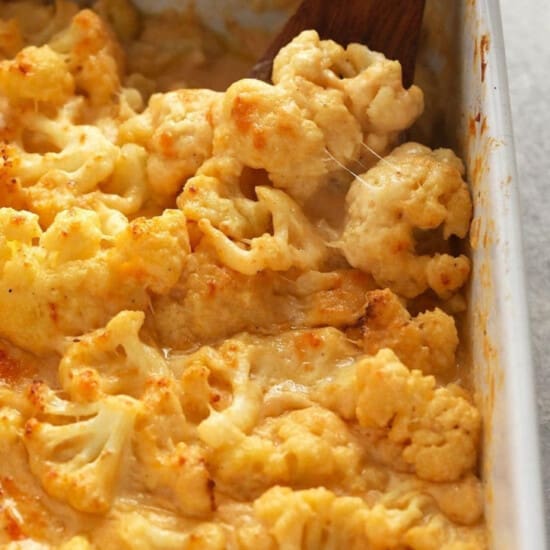 Cauliflower Mac and Cheese Recipe
Combine roasted cauliflower with a homemade cheese sauce for this simple, protein-packed cauliflower mac and cheese recipe. It's ultra cheesy and so delish!
Prep:15 minutes
Cook:40 minutes
Total:55 minutes
Fat 29
Carbs 24
Protein 20
Ingredients
Cauliflower
32 oz. cauliflower florets* chopped (about 10 cups)
2 tablespoons olive oil
1.5 teaspoons garlic powder
1 teaspoon onion powder
1/8 teaspoon salt
1/8 teaspoon black pepper
Cheese Sauce
1.5 tablespoons unsalted butter
2 tablespoons white whole wheat flour* or almond flour (keto option)
1.5 cups 2% milk
1.5 cups shredded cheddar cheese
1/4 cup plain Greek yogurt
2 tablespoons cream cheese
1/8 teaspoon salt
Other
1/3 cup shredded parmesan cheese
Instructions 
Preheat the oven to 400ºF. Spray a 9×13-inch casserole dish with nonstick cooking spray. Set aside.

In a large bowl, toss the chopped cauliflower florets with olive oil, garlic powder, onion powder, salt, and pepper. Make sure all of the cauliflower is coated.

Transfer the cauliflower to the prepared casserole dish and spread it into an even layer. Bake for 12 minutes, toss, and bake for another 12 minutes (about 24 minutes total bake time).

While cauliflower is roasting, make the cheese sauce. Melt the butter in a medium-sized pan over medium/high heat. Add in the flour and mix with the butter until it turns into a thick paste.

Reduce the heat to low/medium and slowly stream the milk into the butter and flour mixture, consistently mixing with a whisk.

Whisk over low heat until the milk mixture thickens. Remove the pan from the heat and whisk in the cheddar cheese, Greek yogurt, cream cheese, and salt. Whisk until all of the cheese is melted.

Once the cauliflower is done roasting, remove the casserole dish from the oven. Pour the cheese sauce over the cauliflower and mix together. Make sure all of the cauliflower is covered in the cheese sauce.

Sprinkle parmesan cheese on top of the cauliflower and turn the oven to broil.

Place the cheesy cauliflower back into the oven and broil on high for 2-5 minutes until bubbly and golden brown (time varies based on the broiler). Remove from the oven and enjoy!
Tips & Notes
Storage: Store leftover cauliflower mac and cheese in an airtight container in the refrigerator for up to 5 days.
Cauliflower: If using frozen cauliflower florets, follow the recipe as written, but add a few extra minutes to the roasting time in step 3.
Flour: Use almond flour instead of white whole wheat flour for a keto and gluten free option.
Nutrition facts
Calories: 420kcal Carbohydrates: 24g Protein: 20g Fat: 29g Fiber: 5g Sugar: 11g