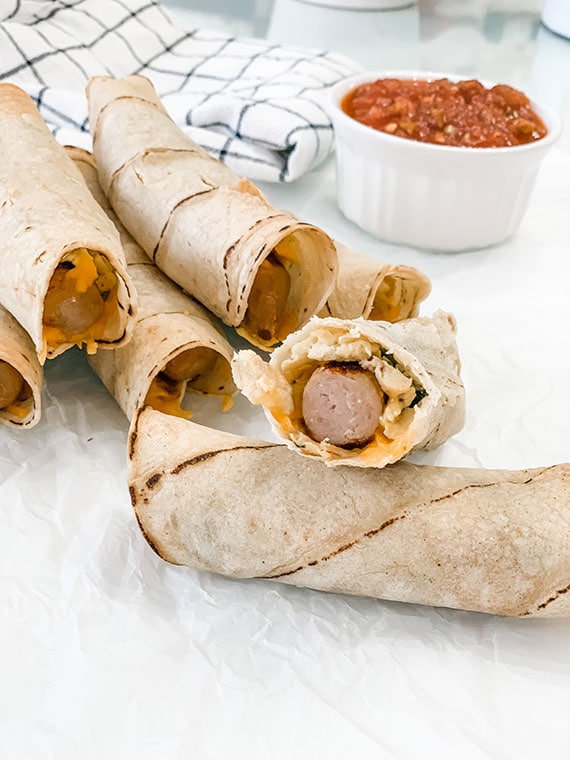 I love a good make-ahead breakfast that I can just grab, heat up quickly and take on the go!  Most mornings are pretty hectic, so anything that can be done quickly is key. I do love my smoothies, overnight oats and gluten-free bagels, but these are a really nice switch up and have a bit of a Mexican flair!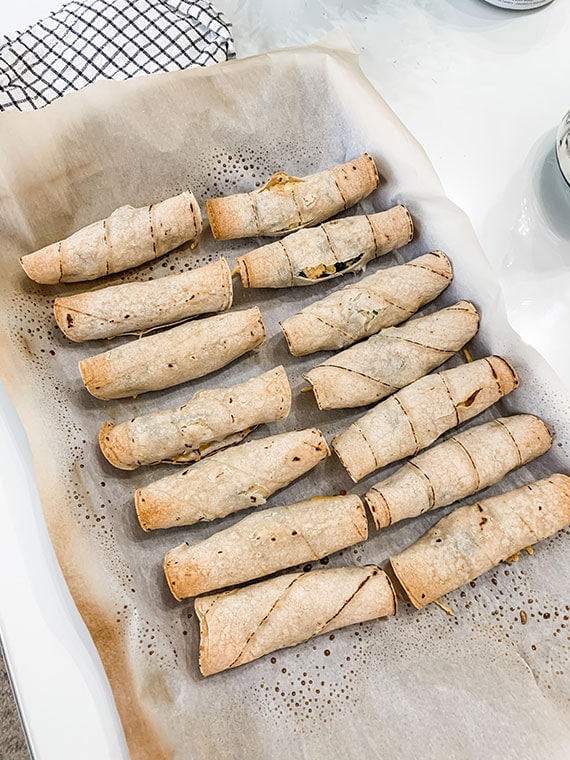 To make these gluten-free, I used small corn tortillas. If you aren't gluten free, you could use small flour tortillas. Look for ones that are about 5 inches.  I find corn tortillas a bit harder to work with than flour, as they tend to break easier. I find the key is working with slightly warm corn tortillas (not too hot, not too cold). If they are slightly warm, they are more pliable and don't break as easily.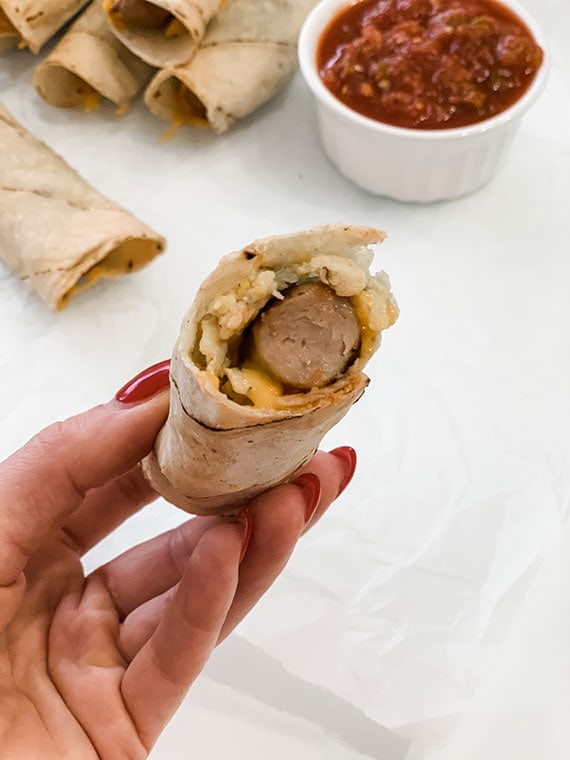 Once they are baked, they are sturdy and crisp. They freeze, and re-heat very well, I just microwave them for about 30-45 seconds each from frozen.
Easy Breakfast Taquitos Gluten Free and Dairy Free
Easy Breakfast Taquitos Gluten-Free and Dairy-Free
Author: Kristine Fretwell
Recipe type: Breakfast
Cuisine: Mexican
14 turkey breakfast sausages or 1 x 450g package *
5 whole eggs
½ cup egg whites
¼ tsp salt
½ tsp pepper
½ cup fresh spinach
14 small corn tortillas
¾ cup dairy-free shredded cheddar (I used the Violife shreds)
Preheat your oven to 425 degrees.
Place a large skillet over medium/high heat and cook breakfast sausages on all sides until cooked through.
Meanwhile, add eggs and egg whites into a small bowl. Add in salt & pepper and whisk with a fork.
Spray the pan with cooking spray, then add the eggs to the pan and toss and scramble the eggs for 2 minutes, add spinach and cook a few minutes more. Remove from heat.
Warm tortillas in microwave. On a large plate, place all tortillas and cover with a damp paper towel. Microwave for 30-35 seconds until the tortillas are pliable.
Divide the scrambled eggs between the tortillas and cover each with a bit of cheese.
Place a sausage link on top and roll up, steam side down onto a baking sheet lined with parchment paper or foil.
Once rolled, spray them all lightly with cooking spray and bake for 10-13 min until they start to get golden brown and crispy around the edges. Best served with salsa.
To Freeze: Once the taquitos are baked and cooled, place in a freezer bag or individually wrap in plastic. When ready to eat, microwave each for about 30-45 seconds until warm.
* Check the label on your turkey sausages to ensure they are gluten-free/dairy-free. If you are in Canada, Lilydale has good ones.
Serving size: 1 taquito Calories: 184 Fat: 7.7 g Saturated fat: 3.2 g Trans fat: 0 g Carbs: 17 g Sugar: 0.1 g Sodium: 498 mg Fiber: 1.4 g Protein: 10.6 g Cholesterol: 88 mg
3.5.3229