Table of Contents[Hide][Show]
Delicious, easy recipe for homemade pizza bites made with traditional-style bagels or English muffins, no-cook pizza sauce, and healthy, no-aluminum cheese. Ready to eat in 15 minutes!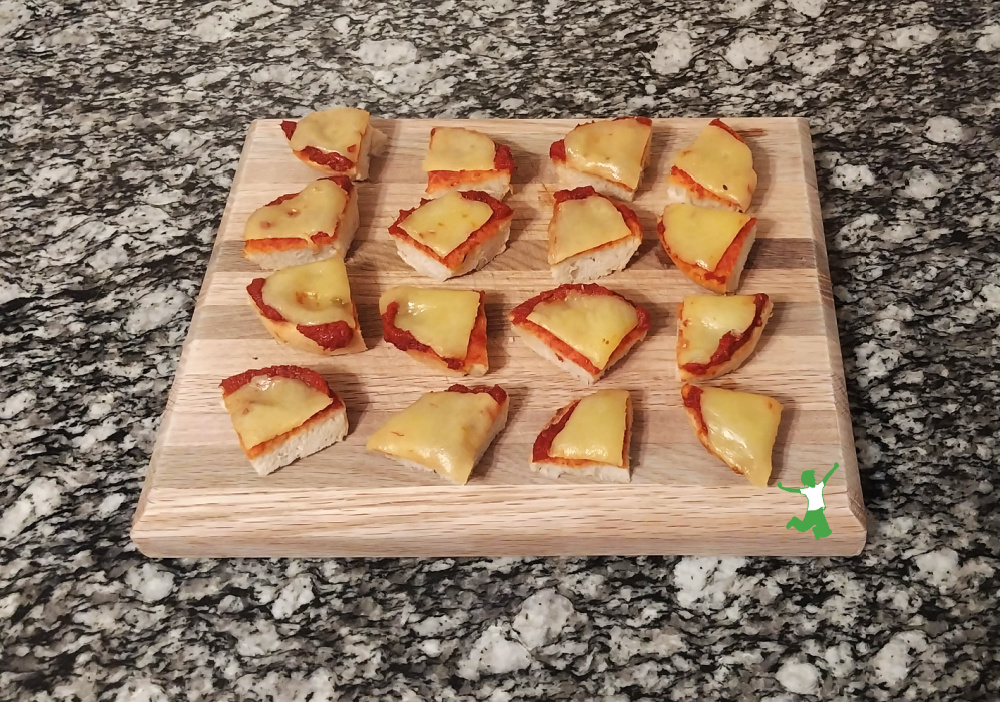 One of my family's perennial favorite snacks or a quickie dinner is homemade pizza bites.
This delicious finger food works wonderfully well for lunchboxes or on a big platter for a party.
I find this dish a welcome relief at dinnertime after a particularly busy day when I have no desire to stand over the stove.
These cheesy bites are ready to eat in less than 15 minutes start to finish. This is less time than pizza delivery and roughly the same time as heating up (lower quality) frozen pizza bites from the store!
Sourcing and Preparation Tips
There are only 3 ingredients in these pizza bites, but sourcing each one is very important!
Base
This recipe is delicious using either sprouted English muffins or organic sourdough bagels.
Your choice as to which one you prefer! I use whatever I have on hand at the time.
Pizza Sauce
I recommend making your own 1-minute, no-cook pizza sauce for this recipe as well as any other dishes that call for this ingredient.
Even the best brands at the healthfood store don't compare to the quality even if the ingredients are certified organic and look fine.
For example, my husband cannot tolerate the 365 organic pizza sauce even though the ingredients look perfect on the label. He gets terrible digestive issues after eating it.
The food manufacturer of this pizza sauce is obviously doing something to this product during processing that is not being disclosed on the label, as hubby is 100% fine and has no issues with my homemade version that contains basically the exact same ingredients!
Cheese
Never ever buy pre-sliced or shredded cheese as it is processed with aluminum!
I don't recommend buying organic pizza bites for the same reason. The cheese is a risk in my opinion.
Believe it or not, aluminum additives in cheese have GRAS status (Generally Recognized As Safe), which means they can be used in certified organic products.
I buy these economical 5-lb blocks of cheese available in mozzarella, pepper jack, Monterey jack, and cheddar for all my cooking needs.
With a good quality cheese knife, it's easy to quickly slice the amount needed for a given recipe.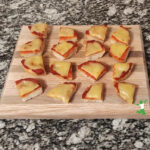 Homemade Pizza Bites
Easy recips for healthy pizza bites using sourdough bagels, homemade 1 minute pizza sauce and healthy cheese.
Instructions
Slice the English muffins in half.

Toast on low until light brown on the edges.

Top each toasted half with 1 tablespoon of pizza sauce. Spread with a knife so the sauce is even across the surface.

Place 1 slice of cheese on top of the sauce.

Broil in the oven for 3-5 minutes or until the cheese is melted and bubbly.

Cut each muffin half into quarters and serve immediately.

Refrigerate leftovers in a glass container with a tight fitting lid for up to 4 days.
Nutrition Facts
Homemade Pizza Bites
Amount Per Serving (4 bites)
Calories 247
Calories from Fat 99
% Daily Value*
Fat 11g17%
Saturated Fat 6g30%
Polyunsaturated Fat 1g
Monounsaturated Fat 4g
Cholesterol 30mg10%
Sodium 370mg15%
Carbohydrates 25g8%
Fiber 4g16%
Protein 12g24%
Vitamin A 200IU4%
Calcium 200mg20%
* Percent Daily Values are based on a 2000 calorie diet.