Hearty leftover turkey soup recipe is made in the Instant Pot with leftover turkey meat, tons of veggies, farro, and Tuscan spices. Cozy up with big bowls of this turkey soup all Thanksgiving weekend long.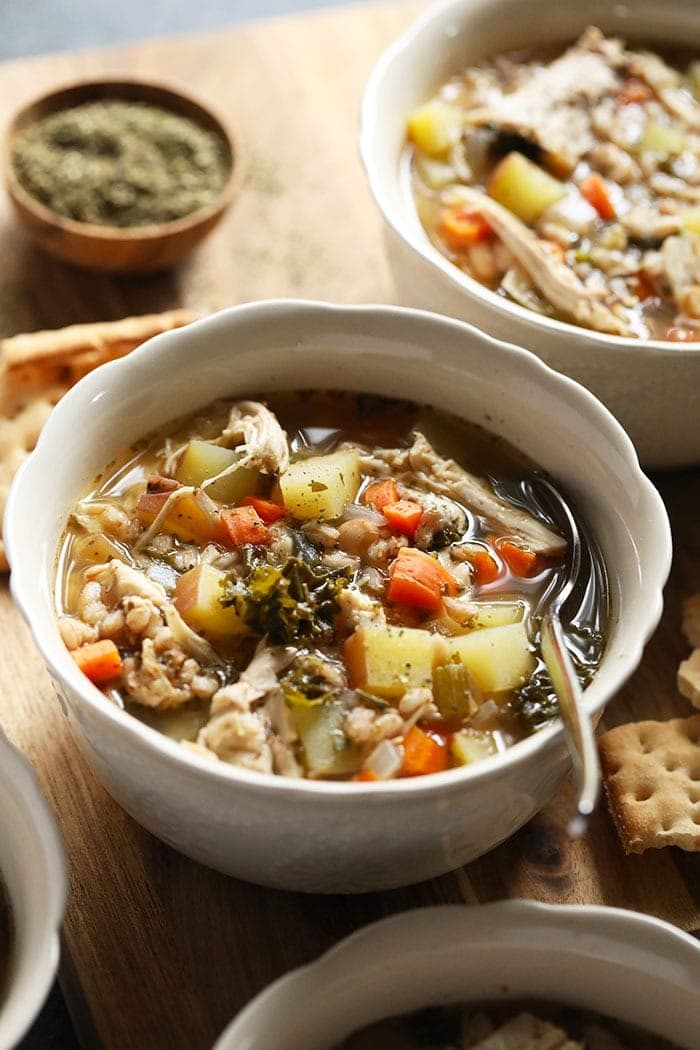 Repurpose leftover Thanksgiving turkey with this recipe for leftover turkey soup! If you're tired of leftover turkey sandwiches (we are!), this soup is for you.
Made in the Instant Pot with hearty farro, plenty of veggies, and leftover turkey, this soup comes together quickly and easily. No waiting forever for the farro to cook!
Featured Comment
"This was the BEST Turkey soup I have ever tried and I have tried a bunch! I love my soups packed with stuff and this one really fit the bill." – Paula
What You Need for Leftover Turkey Soup
The star of this soup is leftover Thanksgiving turkey, of course! In addition, it's packed with veggies and has a Tuscan flare. You'll need:
Turkey: Use white, dark, or a combination of turkey meats in this recipe. Shred or dice it before adding it to the soup.
Vegetables: The combination of veggies absolutely makes this recipe! Carrots, onion, celery, red potatoes, kale, and white northern beans create a super chunky, hearty soup. Make sure that all of your veggies are bite-sized and around the same size so they cook evenly.
Farro: In addition the the veggies, farro adds a delightful texture. Typically, farro takes forever to make on the stovetop, but in the Instant Pot, all you need is 10 minutes!
Spices/Broth: Chicken broth, Italian seasoning, garlic, and bay leaves add incredible flavor.
Vinegar: Our #1 secret ingredient for soup! White vinegar or apple cider vinegar gives the soup a welcome zing that brings out all of the delicious flavors. A little goes a long way!
Hot Sauce: Use a vinegar-based hot sauce for even more flavor. It adds more brightness than heat – this is not a spicy soup.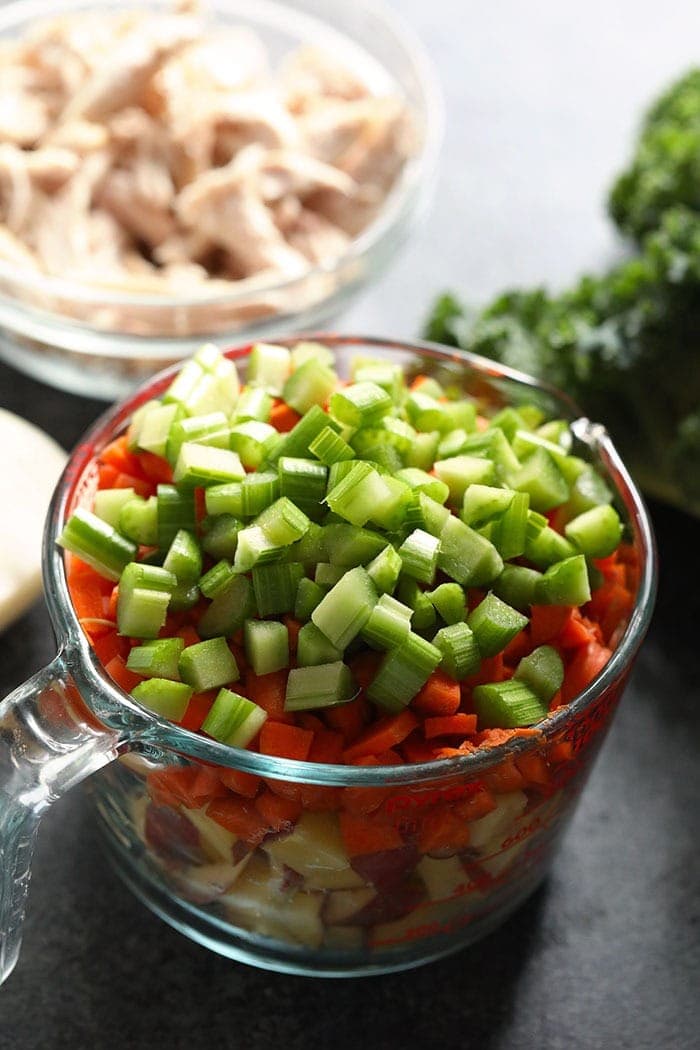 Get our Top 10 5-Star Recipes!
Join our email list for new recipes and BONUS: get our top 10 ⭐️⭐️⭐️⭐️⭐️ recipes e-book!
Leftover Turkey Soup Variations
Here are a few ways to mix up this turkey soup:
Meat: This turkey soup is a perfect way to use up leftover Thanksgiving turkey, but it's great with leftover shredded chicken breasts or rotisserie chicken, too.
Beans: Don't have white beans? Use whatever kind of beans you have!
Broth: We love using chicken broth, but any kind works.
Vegan Soup: The base of this turkey soup is so wholesome and hearty. It would be just as delicious without the turkey! Use vegetable broth and follow the recipe as instructed, omitting the shredded turkey.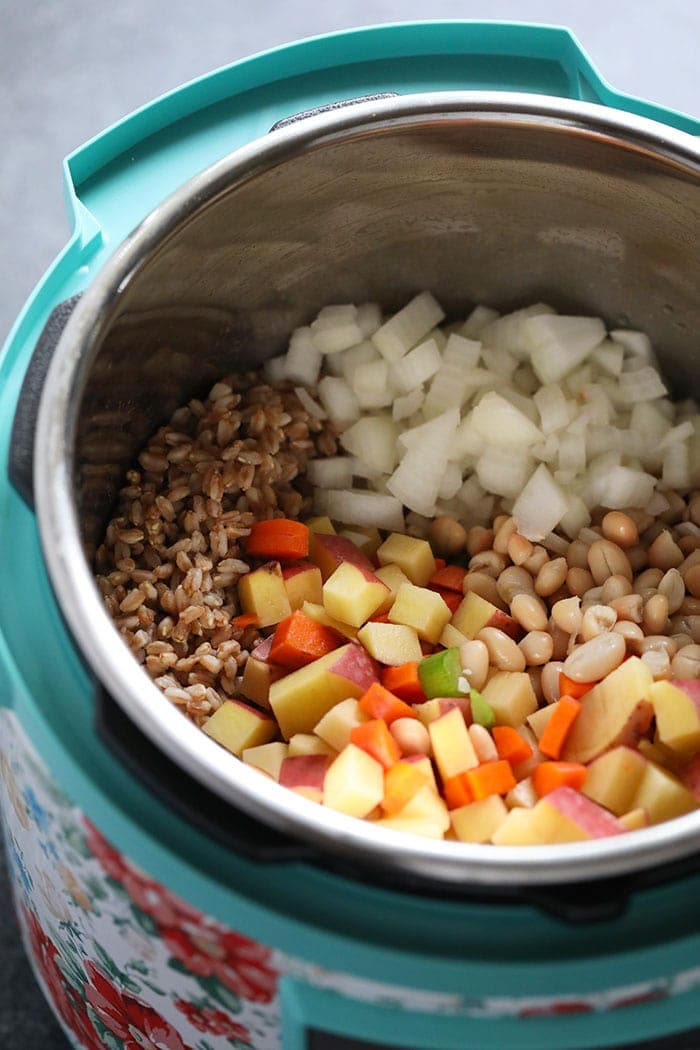 FAQ
Is this soup gluten free?

No, this soup is not GF because farro is a wheat product.
Can you use chicken instead of turkey?

Absolutely! Shredded chicken breasts or rotisserie chicken are great substitutions for turkey in this soup.
Is this soup spicy?

This soup is not spicy at all. The hot sauce adds an acidity and brightness and not much spice. Feel free to use vinegar instead of hot sauce.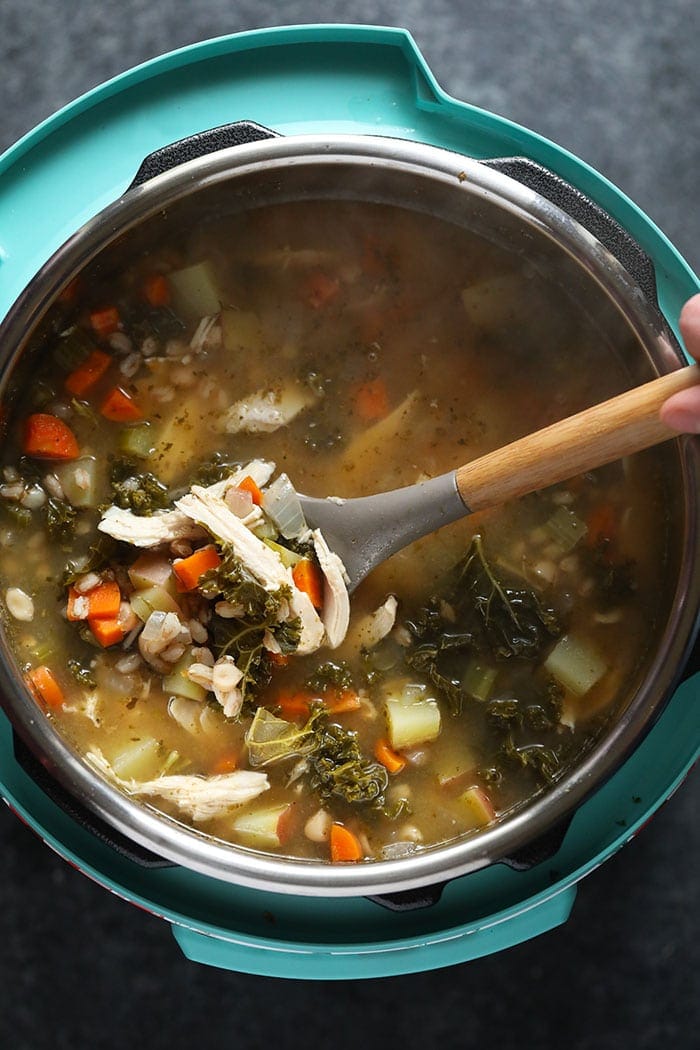 Storage
Transfer completely cooled soup to airtight containers and refrigerate for up to 5 days.
Freezing Leftover Turkey Soup
We love having a freezer stocked with soups to enjoy all winter long! Once this soup is completely cool, pour into freezer-safe containers, and freeze for up to 3 months.
Here are a few tips to keep in mind when freezing soup:
Liquid expands when frozen so don't fill the containers all the way full. Leave 1-2 inches of space in a bag or container for the liquid to expand.
If using a glass or plastic container, place a piece of plastic wrap on top of the soup before adding the lid. The less air in the container the better – this helps reduce the risk of freezer burn.
Don't forget to label the container with an "eat by" date. This date is 3 months out from the date you're freezing the soup.
For even more tips and tricks, check out our post all about how to freeze soup.
How to Thaw Frozen Soup
When you are ready to reheat your frozen soup, you have 2 options:
Thaw in the refrigerator: If you have time to thaw the soup in the refrigerator, take the soup out of the freezer the day before you'd like to enjoy it. Place the frozen container on a plate in the refrigerator and let thaw.
Thaw in a water bath: To expedite the thawing process, fill a large pot with warm water. Place the container (or bag) of frozen soup in the warm water until the soup loosens from the side of the container. Pour the soup (which might still be an ice block) into a large saucepan. Heat over low/medium heat until the soup thaws out completely. Add additional liquid if needed, bring to a boil, and serve.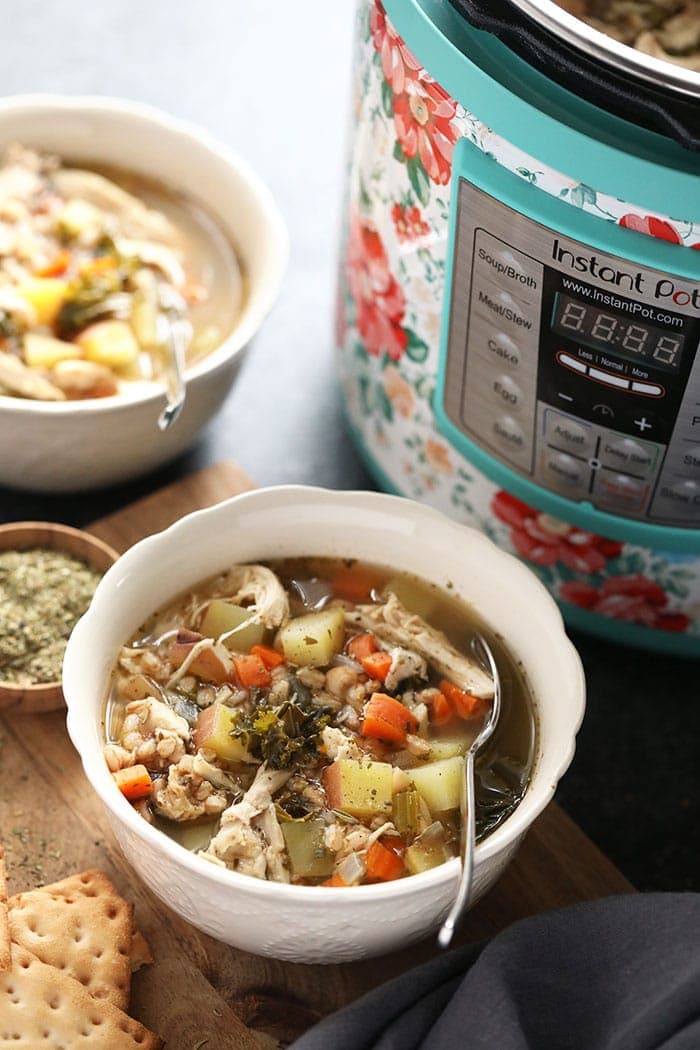 Serving Suggestions
Made with plenty of veggies and protein, this leftover turkey soup a meal all by itself! Enjoy bowls of turkey soup with a sprinkle of parmesan cheese, crackers, or fresh bread for a easy, hearty meal.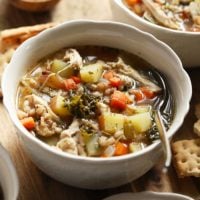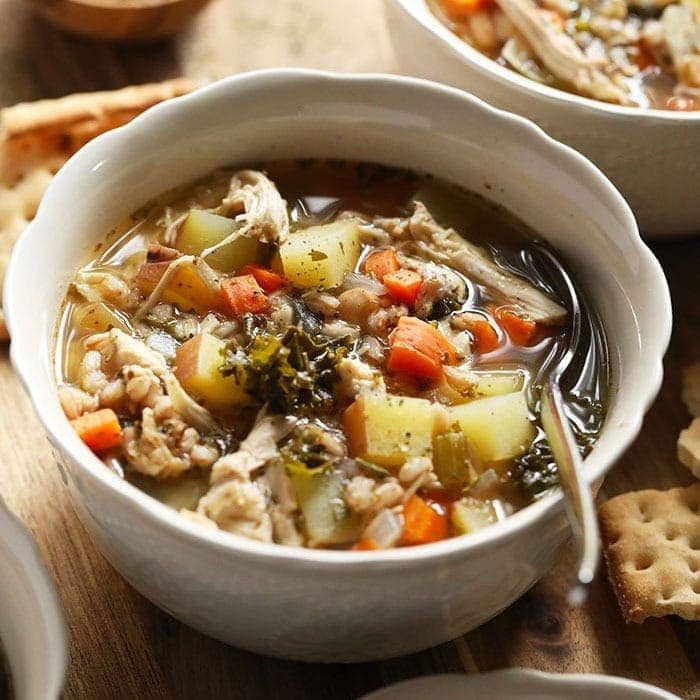 Leftover Turkey Soup
Use up leftover holiday turkey in this Instant Pot leftover turkey soup recipe. It's packed with flavor, texture, and plenty of veggies.
Prep:20 minutes
Cook:1 hour
Total:1 hour 20 minutes
Fat 12
Carbs 50
Protein 23
Ingredients
1 cup uncooked farro
2 cups water
3 celery stalks diced
4 medium carrots finely diced
1/2 large yellow onion finely diced
3 cups diced red potatoes about 6 small red potatoes
15 oz. white northern beans drained and rinsed
2 stalks kale deboned and chopped
2 tablespoons Italian seasoning
2 teaspoons garlic powder
2 bay leaves
1 teaspoon salt
1/2 teaspoon ground pepper
1 tablespoon white vinegar or apple cider vinegar
2-3 tablespoons hot sauce we used Frank's hot sauce
8 cups chicken broth
3 cups leftover turkey* diced or shredded
Instructions 
Make the farro in the Instant Pot. Combine the water and uncooked farro in your Instant Pot. Close the lid. Turn the valve to seal and cook on high for 10 minutes. Immediately open the valve to vent in order to quick release.

Once the farro is cooked, add the remaining ingredients (except the turkey) to the Instant Pot. Close the lid. Turn the valve to seal and cook on high for 2 minutes. It should take about 20 minutes for the Instant Pot to build enough pressure to start counting down from 2. Once the timer goes off, quick release and open the valve.

Once all of the steam has let out of the Instant Pot, open the lid and stir.

Mix in the leftover turkey. Once the turkey is warmed through, serve immediately.
Tips & Notes
Storage: Store completely cooled soup in airtight containers and refrigerate for up to 5 days.
Freezing Instructions: Once this soup is completely cool, pour into freezer-safe containers, and freeze for up to 3 months.
Hot Sauce: Feel free to replace the hot sauce with the same amount of vinegar. 
Turkey: If you don't have any leftover turkey, use leftover chicken or a rotisserie chicken instead.
Timing Note: The second time you turn the Instant Pot on, it will take longer to heat up due to the volume of ingredients in the soup.
Nutrition facts
Calories: 319kcal Carbohydrates: 50g Protein: 23g Fat: 12g Fiber: 3g Sugar: 4g
Source link