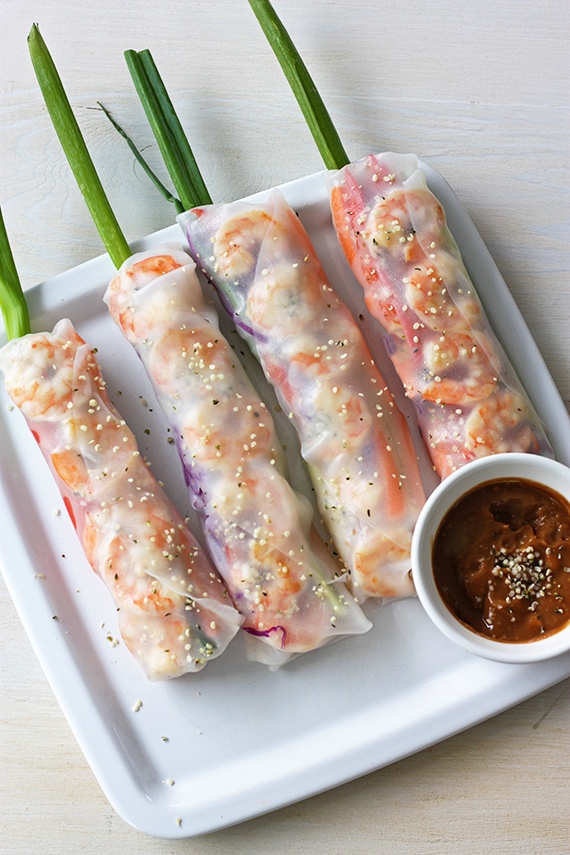 Whether it be at a Vietnamese or Thai restaurant, I always order a summer roll. Light, fresh and I love the peanut sauce its dipped in. Here, I decided to make these shrimp summer rolls as the weather has been so nice and I wanted something light for dinner.
This time around, I wanted to add some extra nutrition, so I added some Manitoba Harvest hemp hearts in the rolls and they were a great addition! I loved the added crunch and flavor.  The best thing about summer rolls is that you can use whatever veggies you like. Heck, you could even make a fruit version if you wanted.
I wanted to stick with the traditional version, which contain shrimp. But to make these vegan, just skip the seafood. I quickly sauteed some large shrimp I had on hand to use in these, but you could totally use pre-cooked shrimp too. I'm still not an expert at rolling these (needed to roll them tighter), but will continue to practice until perfect!
The peanut sauce that it goes with is incredibly easy! Just two ingredients. I've tried many other homemade peanut sauces and I still think this easier version comes out the tastiest!  I've tried using a couple brands of hoisin sauce, but my favorite so far is the Lee Kum Lee.
Shrimp Summer Rolls
Author: Kristine Fretwell
Recipe type: Main
Cuisine: Vietnamese
6 rice papers
3 Tbsp Manitoba Harvest Hemp Hearts
12 cooked large shrimp
1 red pepper, cut into thin strips
1 cup carrots, cup into thin strips
½ a cucumber, cut into thin strips
½ cup red cabbage, cut into thin shreds
3 green onions, cut in half lengthwise
¼ cup natural peanut butter
¼ cup hoisin sauce
2 Tbsp water or more
Fill a large bowl with hot water.
Place one sheet of rice paper in the water and let it soak for 30 seconds.
Lift the rice paper out of the water and place it on a clean surface or cutting board.
Layer on ½ Tbsp of hemp hearts, 4 halves of large shrimp, a few slices of red pepper, carrot & cucumber.
Gently lift the side of the rice paper that's closest to you and fold it over the fillings.
Hold the middle of the roll while you fold each side in. Add in the strip of green onion, and continue rolling until it meets the end.
Repeat this process until your fillings are used up.
To make the sauce, add all the sauce ingredients together. Add more water if needed depending on the consistency of sauce you like.
Serving size: 1 roll with sauce Calories: 187 Fat: 8.6 g Saturated fat: 1.3 g Unsaturated fat: 2.4 g Carbs: 18 g Sugar: 9.6 g Sodium: 335 mg Fiber: 2.6 g Protein: 9.8 g Cholesterol: 36 mg
3.5.3229