Enjoy sweet potatoes like never before with these sweet potatoes au gratin! Layers of sweet potatoes are baked in a cheesy, creamy sauce and topped with Ritz cracker crumbs rather than traditional bread crumbs to create a crispy exterior and layers of flavor.
We've all had sweet potato casserole for the holidays, but what about sweet potato au gratin? The sweet potato slices come out perfectly tender and cheesy, and the crispy Ritz cracker crust is just so satisfying. It's the perfect comfort food dish for small family dinners and special occasions.
To make this au gratin potatoes recipe, slice the potatoes and make your au gratin sauce. Then layer your casserole dish with the cream sauce and scalloped sweet potatoes, top with the Ritz cracker crumbs, and bake! Say hello to your new favorite way of eating sweet potatoes.
What You Need for Au Sweet Potatoes Au Gratin
9×13-inch casserole dish: make sure you use the right-sized casserole dish to ensure everything cooks evenly.
Mandolin: you'll need a mandolin to slice your sweet potatoes into thin enough layers.
Sweet potatoes: any color of sweet potatoes will do. We used multicolor for the *aesthetic*.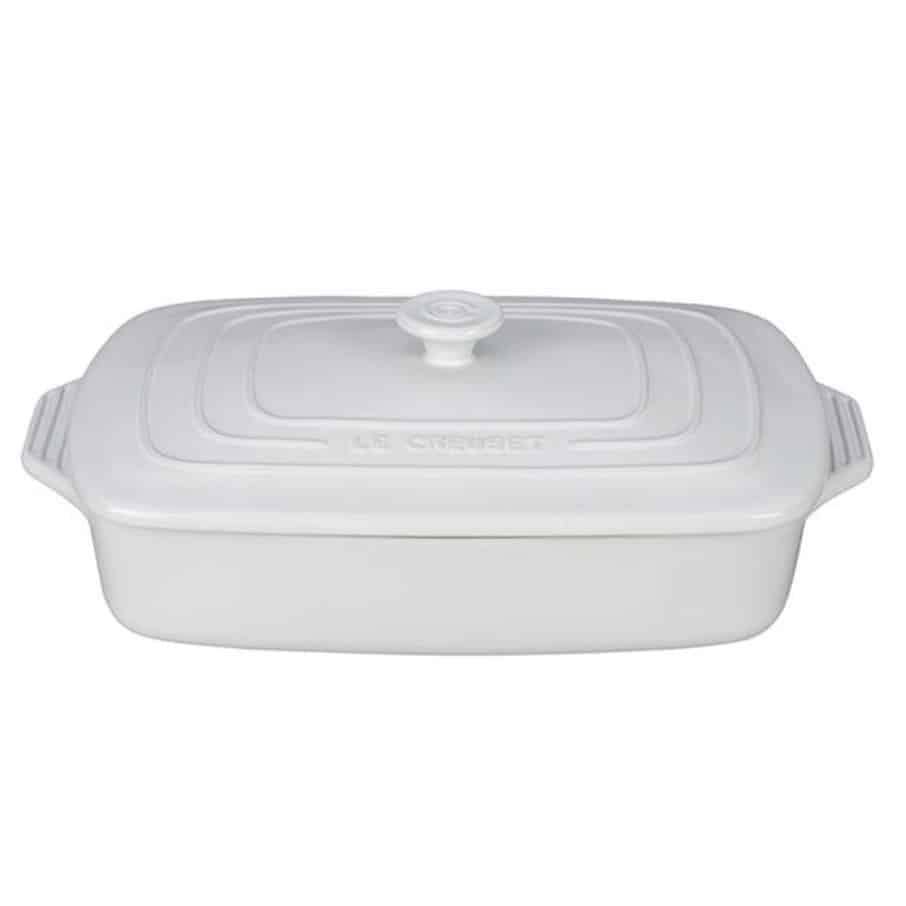 Our Favorite
Casserole Dish
We love this le creuset casserole dish because it is oven safe AND has a cover. It is the perfect casserole dish for this baked one pot pasta dish!
Get our Top 10 5-Star Recipes!
Join our email list for new recipes and BONUS: get our top 10 ⭐️⭐️⭐️⭐️⭐️ recipes e-book!
Variations and Substitutions
Sweet potatoes: ​Keep it traditional and use regular potatoes for this recipe. Yukon gold potatoes would taste delicious.
Fresh thyme: Other great herbs to use for this au gratin recipe are sage, rosemary, parsley, and oregano.
2% milk: ​You can swap the 2% milk for a fattier dairy milk or any plant-based milk you'd like! 
Cheese: This recipe will also work with shredded cheddar cheese, havarti, or gouda.
FAQ
What is the difference between scalloped and gratin potatoes?

The main difference is that scalloped potatoes do not contain cheese, while gratin potatoes call for the addition of cheese in between layers and on top of the dish. This distinction may seem small, but it greatly affects the flavor and texture of these potato dishes.
Why is my au gratin watery?

Watery au gratin potatoes can be the result of not properly drying the potatoes after soaking before adding them to the dish. This excess water can make the au gratin watery and affect its overall texture.
Can I make au gratin sweet potatoes ahead of time?

Yes! Au gratin sweet potatoes can be made several hours or even a day in advance. Just slice your potatoes and completely submerge them in ice-cold water, cover, and refrigerate until you are ready to assemble the dish. This will save you tons of time if you're preparing for a crowd.
Storage + Freezer Directions
Store any leftover au gratin sweet potatoes in an airtight container in the fridge for up to 5 days.
To freeze, you can keep them in the dish they were baked in and cover them tightly with aluminum foil or plastic wrap. Or, place them in a freezer-safe, airtight container and store in the freezer for up to 2 months.
Serving Suggestions
The only way these au gratin sweet potatoes can taste any better is when it's paired with other amazing flavors. For the ultimate fall feast, enjoy your sweet potato dish with tasty mains like this Slow Cooker Pork Loin, Juicy Pan Seared Chicken Breast, or Smoked Turkey Legs. For sides, you'll absolutely love our Balsamic Grilled Brussels Sprouts, Roasted Root Vegetables, and Apple Burrata Salad.
Au Gratin Sweet Potatoes
These au gratin sweet potatoes are cheesy, creamy, and a delicious spin on your regular potato au gratin. It's the perfect addition to any holiday table!
Prep:30 minutes
Cook:1 hour
Total:1 hour 30 minutes
Fat 16
Carbs 24
Protein 10
Ingredients
3 large sweet potatoes any color
Au Gratin Sauce
6 tablespoons unsalted butter
½ medium yellow onion minced
½ teaspoon sea salt separated
6 cloves garlic minced
⅓ cup all-purpose flour
½ teaspoon cracked black pepper
1 tablespoon chopped fresh thyme
1.5 cups 2% milk
1 cup chicken broth
1 cup grated parmesan cheese
1 cup shredded gruyere cheese
Topping
15 Ritz crackers crumbled
2 tablespoons fresh thyme
Instructions 
Preheat the oven to 400ºF and grease a 9×13-inch casserole dish.

Prepare the sweet potatoes by using a mandolin to slice them into uniform rounds. A 1.3mm or 2mm thickness works for this recipe. Try to avoid thicker potato slices. Set the potatoes aside.

Prepare the au gratin sauce. Melt butter in a large skillet over medium/high heat. When the butter is melted, add the onion and ¼ teaspoon of salt. Saute for 3-4 minutes. Add the garlic and saute until fragrant, about 1 minute.

Add the flour, pepper, and fresh thyme to the skillet and mix with the ingredients until it turns into a paste. Cook the mixture for at least 1 minute.

Turn the heat to medium heat and slowly add the milk to the skillet, whisking constantly so the milk doesn't burn. Once all the milk has been added, it should thicken quickly.

Slowly add the broth to the skillet, whisking to combine and thicken.

Remove the mixture from the heat and add the parmesan and gruyere cheese a little bit at a time, whisking vigorously until melted. The mixture should be smooth (except for the onion and garlic) and thick.

Add 1 cup of cheese sauce to the bottom of the 9×13-inch dish. Spread it out evenly. Place the sweet potato rounds, skin side up, into the dish. The sweet potatoes should fill the entire dish.

Pour the remaining sauce evenly over the potatoes. Use a spatula to push the sauce down and in between the potatoes.

Lastly, spread the Ritz cracker crumbs over the top of the potatoes and cover the casserole dish.

Bake for 30 minutes covered and 30 minutes uncovered.

Remove from the oven and let the potatoes rest for 10 minutes before serving. Top with the remaining fresh thyme.
Tips & Notes
Gluten-free bread crumbs can be used in place of the Ritz crackers.
The dish must be uncovered for the second half of the bake time so the sauce can cook off and thicken.
Nutrition facts
Calories: 279kcal Carbohydrates: 24g Protein: 10g Fat: 16g Fiber: 3g Sugar: 5g
Similar recipes: