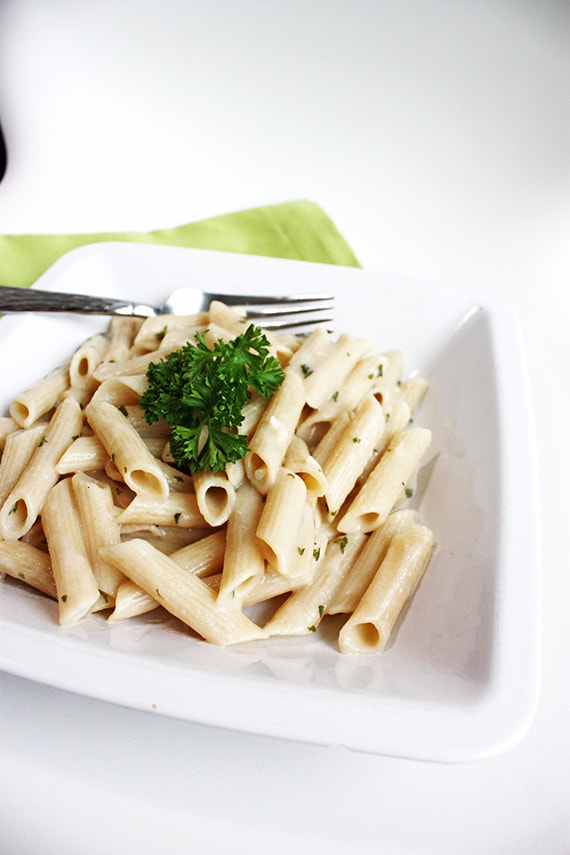 Hi all! Hope your 2018 is getting off to a great start! I'm sure many of you are getting in the swing with healthier meals after the holidays (me included). I've also gotten a few workouts in this year, so I'm definitely feeling better. One thing is certain though, even if its healthy, it still has to taste good. Plus, it has to be easy to prepare, and not a lot of ingredients. Tough task? I think not! Especially when it includes this sauce!
Wow. Really. Its good.
This easy vegan alfredo sauce came out so great! Excited to share the recipe with you. This year, I'm going to be trying to make more vegetarian and vegan recipes. While I'm not going to make the jump to full-on vegetarian or vegan, I will definitely enjoy more meals without meat and dairy. I can't eat a lot of dairy products to begin with as my tummy doesn't agree with too much of it, so I am drawn to vegan food as I know it's guaranteed dairy-free.
The sauce came together in less than 10 minutes and that includes prep. Many vegan sauce recipes contain soaked, blended cashews, but I didn't want to have cashews in this recipe just because its an added step. I also made the sauce gluten-free as I used gluten-free flour. The kids and hubby also enjoyed it very much. Its not as rich as traditional alfredo sauce. But in my opinion, that's just too rich and leaves you feeling sluggish after. This version is light, but definitely has a similar flavour to traditional alfredo sauce.
I used a gluten-free penne in this recipe (115-ish grams of dried pasta), but use whatever pasta you like. I didn't include the pasta in the recipe, as you can use this sauce anywhere you want to use alfredo.  Doesn't even need to be with pasta. It would also be amazing drizzled over steamed or roasted cauliflower or broccoli.
Enjoy!
Easy Vegan Alfredo Sauce
Author: Kristine Fretwell
Recipe type: Side
Cuisine: Italian
1 Tbsp vegan margarine (I used Becel Vegan)
1 Tbsp flour (gluten-free mix or all purpose)
3 cloves garlic, minced
1 cup unsweetened non-dairy milk (I used So Delicious Unsweetened Coconut)
¼ cup vegan shredded Parmesan (I used one by Earth Island)
1 tsp dried parsley
Salt & pepper (to taste)
Cook your gluten-free pasta or regular pasta according to package directions.
In a small pot, melt margarine, add flour and whisk together. Allow to cook for 30 seconds.
Add garlic and parsley and cook together another 20-30 seconds.
Add milk slowly, stirring until it thickens.
Add in vegan parmesan and mix until melted together.
Taste and adjust seasoning with salt and pepper (if desired)
Serving size: ¼ cup sauce Calories: 72 Fat: 5.9 g Carbs: 4.6 g Sugar: 0 g Sodium: 99 mg Fiber: 0.4 g Protein: 0.3 g Cholesterol: 0 mg
3.5.3229