We love making Instant Pot brown rice because it's truly foolproof and comes out perfect every time. You can make a large batch of brown rice in the Instant Pot using a 1:1 ratio of rice to water and cooking on high for 20 minutes.
How many times have you made brown rice on the stove and it's either bubbled over or stuck to the bottom of the pot? No need to worry about burnt or mushy rice when you make brown rice in the Instant Pot! I love using this method of cooking brown rice when I've got lots of mouths to feed or to free up space on the stovetop.
Quick method: Our Instant Pot brown rice recipe comes together with 1 cup of rice and 1 cup of water and cooks on high for just 20 minutes.
Water to Rice Ratio for Instant Pot Brown Rice
The ratio of water to rice is 1:1 –> 1 cup water to 1 cup brown rice.
What type of brown rice can you cook in the Instant Pot?
We tested this recipe with both long-grain brown rice and short-grain brown rice. Our finding is that the long-grain brown rice needed that extra time in the Instant Pot with a natural release whereas the short-grain brown rice was fine with a quick release.
Short Grain Brown Rice – short grain brown rice tends to be more starchy than long-grain brown rice. It tends to end up soft, sticky, and fluffy. Cook time for short-grain brown rice is 20 minutes but you quick release the pressure.
Long Grain Brown Rice– long grain brown rice is less starchy then short grain brown rice and ends up a bit drier than other rices. Cook time for long grain brown rice is 20 minutes but you must let the pressure natural release for 10 minutes.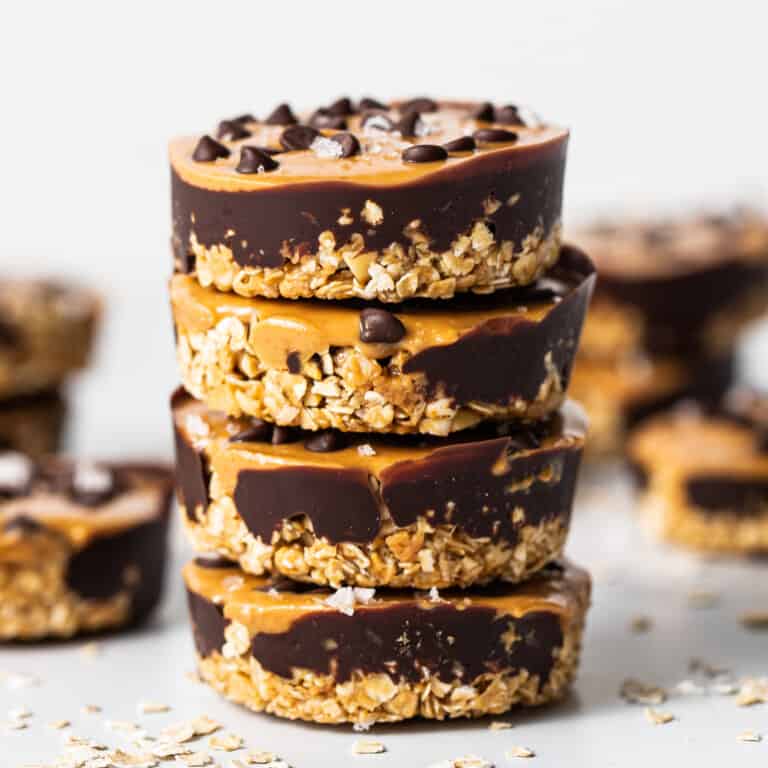 Get our Top 10 5-Star Recipes!
Join our email list for new recipes and BONUS: get our top 10 ⭐️⭐️⭐️⭐️⭐️ recipes e-book!
Instant Pot Brown Rice Qs
Do I have to rinse my rice before cooking it?

Yes, it is very important that you rinse rice before cooking it. You are rinsing off any dirt and it helps to prevent the rice from being sticky after you cook it.
Why is my rice mushy?

If your rice is still mushy, you most likely added too much water or let the Instant Pot natural release too long. Unfortunately, there is no way to fix mushy rice. We recommend making a porridge with the leftovers!
Why is my rice still crunchy?

If your rice is still crunchy, there was not enough water added or the pressure was not released correctly from the Instant Pot. Unfortunately, there isn't a way to ensure you won't get the burn notice if you try to continue to cook the rice. To use crunchy rice, add it to a soup or cook in a little oil and water on the stovetop in a skillet.
Storage
To store Instant Pot brown rice, you want to remove the rice from the Instant Pot and let it cool completely before putting it in an air-tight storage container. Brown rice can last up to 7 days in the refrigerator.
Can you freeze brown rice?
Yes, you can freeze Instant Pot brown rice. Freezing brown rice is a great way to have cooked rice on hand at all times. To freeze Instant Pot brown rice, let the rice cool completely and then place it in a freezer-safe bag and place it in the freezer for up to 3 months.
Serving Suggestions
If you're anything like us, you love a side of rice! Here are some serving ideas:
Ingredients
1 cup brown rice short grain or long grain
1 cup water or broth
Instructions 
Add the brown rice to a fine sieve and rinse under cold water until the water runs clear.

Add the rice and water to the Instant Pot and stir the rice and water together. Be sure that all the rice is covered in water. 

Cover and seal the Instant Pot's pressure valve. Set the Instant Pot to high pressure and cook for 20 minutes.

Long grain rice: naturally release the pressure for 10 minutes and then release any leftover pressure from the Instant Pot.

Short grain brown rice: quick release the pressure. 
Tips & Notes
Feel free to double or triple this recipe.
For more flavor, swap the water for broth.
Nutrition facts
Calories: 160kcal Carbohydrates: 36g Protein: 3g Fat: 1g Fiber: 0g Sugar: 0g